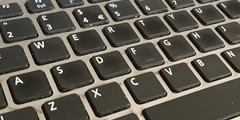 Backstagecrew specialise in IT projects for small businesses.
Backstagecrew design simple, low cost websites which give you a presence on the Internet without costing you the earth.
We can source your .com or .co.uk domain name and register it from £5 a year.
We can also provide hosting through PMH Internet Services where you can choose a plan from £35 a year
With our websites starting from £400 we are the easy way to get your business online.
We don't just build websites. We can handle many of your other IT needs too, including onsite support services, backups, databases, spreadsheets and graphic design.
Since we started building websites, our clients have asked for a variety of additional services which we continue to provide and we're not afraid to learn new techniques and skills.

We don't pretend to know everything and we believe in honesty with our clients. If we are not able to do something for you, we'll tell you and discuss options and alternatives.
Backstagecrew Internet Services have been working with computers and developing websites since the Internet began.
In the early days of the Internet, sites were written by hand in html and were little more than pages of text with a few images. These images would usually take a long time to load, as Internet connections were so slow. Websites had to be written, and images edited, to minimise loading time. Since that time, technology has moved on and now there are many different ways of building a website. While Backstagecrew use these technologies to create and maintain your online presence, we still create sites which are designed to work well and load quickly because not everyone has super fast connections. Whether you need a simple static site or something more complicated, we have the tools and skills to get the job done.

We use the latest software to create websites to suit your needs. We also have the latest image and video editing programs to create and edit content for websites or print.
All software is fully licenced for commercial use. The main software package we use is Adobe Creative Suite which is the industry standard for creating websites, graphics, images and video. We are also proficient in a variery of other packages including Microsoft Office.
We are based in the North West, but work nationally. Travelling up and down the country adds to the cost of your site, so we try to minimise the number of visits necessary by taking instructions and approvals online and over the telephone.

Backstagecrew Internet Services specialise in website design, but are proficient in a number of technologies
With our basic sites starting at £400, we can get your business website designed and hosted for the first year. After that, you just pay your annual hosting and domain registration fees.
This package gives you a basic website with images and text provided by you. All you need to do is provide the content and images for the site and we will do the rest. We will also set up your email address and forward it to your account.
Source and register a suitable domain name.
Select and pay for appropriate hosting package.
Design and build your site using CSS stylesheets.
Optimise images for quicker loading
Upload to the hosting company.
Check functionality and links.
Register and promote your site with search engines
Six months of free updates
Register email addresses as required and set up forwarding.
Get in touch for more information about our services.